The History of the International Research-to-Practice Conference "Early Childhood Care and Education"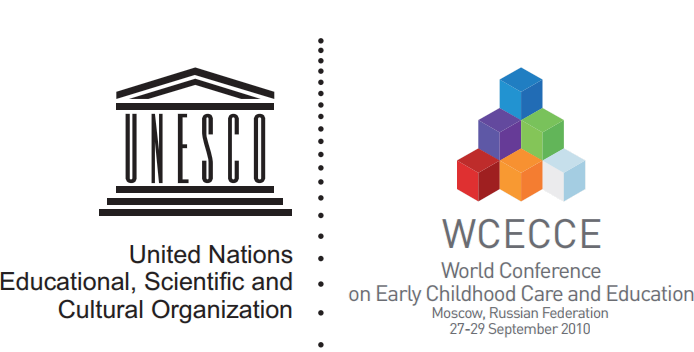 International Conference «Early Childhood Care and Education» was inspired by the first ever World Conference on Early Childhood Care and Education (ECCE) organized by UNESCO in 2010 in Moscow. Since that time, the Conference is held annually.
Now it is one of the largest annual international conferences for exchange of ideas through interdisciplinary dialogues among practitioners, teachers, psychologists, policymakers in the sphere of child development and education.
Main aims of the Conference are: bringing the major issues of the early education and the prospects for further research in this field up for discussion, showcasing the latest studies in early education, enhancing collaboration and network cooperation.
The organizers of the ECCE Conference are Lomonosov Moscow State University and International Academy of Preschool Education (IAPE). ECCE is supported by the Ministry of Education and Science of the Russian Federation, Civic Chamber of the Russian Federation, the World Bank.
International Conference «Early Childhood Care and Education» (ECCE) is held annually under the patronage of UNESCO. In 2020 it was included in the list of events dedicated to the 75th anniversary of the UN.
From year to year, the conference gathers more and more leading specialists from throughout Russia and abroad. The number of participating countries has increased up to 64.
Every year the Directorate chooses one Partner Country of the Conference. This country becomes wide represented during the Conference, the delegates from the country give detailed reports on the situation in Preschool education in their country and share the experience in the field with the experts and scientific societies from other countries. We sincerely thank our past Partner Countries: Germany (2013), Sweden (2015), China (2016), USA (2017), South Africa and Indonesia (2018), Turkey (2019), Republic of Uzbekistan (2020).
In December 2020, for the first time ever, the ECCE Conference was run in an all-digital format.
Official languages of the conference are English and Russian. All events at the conference are provided with simultaneous interpreting.
ECCE 2020 outcomes:

ECCE 2019 outcomes:

ECCE 2018 outcomes:

ECCE 2017 outcomes:

ECCE 2016 outcomes: